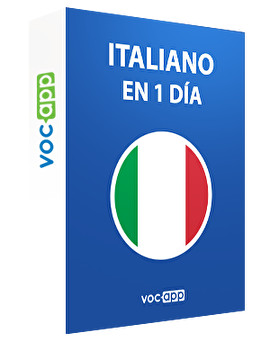 Italiano en 1 día
¿Tienes curiosidad por conocer el país de la pasta?
Si quieres visitar el país donde residen las raíces de todas las recetas de pasta
Si vas a viajar y quieres saber desenvolverte en lo más básico del idioma
O simplemente tienes curiosidad por aprender un idioma más
Empieza nuestro curso de Italiano y aprende las palabras más básicas
Sign up for free
This course is 100% free. We want to show you how fast & easy you can learn with us.
10 palabras en 10 segundos - 10 parole in 10 secondi




10 flashcards

Lo que ya conoces:) - Quello che si conosce già:)




11 flashcards

Preguntas - Domande




14 flashcards

Expresiones de cortesía - Formule di cortesia




19 flashcards

Personas - Persone




44 flashcards

Expresiones útiles - Espressioni utili




25 flashcards

Acciones - Azioni




30 flashcards

Números - Numeri




37 flashcards

Intraducible - Intraducibile




8 flashcards
---