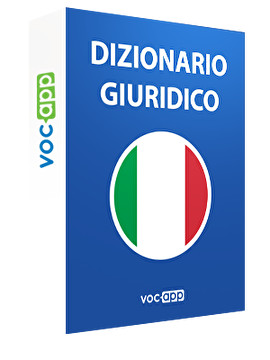 Legal Italian
The essentials for every self-respecting lawyer!
You might have heard about the challenges of Italian legal vocabulary.
No worries, thanks to VocApp that is going to be a thing of the past!
If you're planning to become proficient in Italian legal vocabulary, you've come to the right place!
VocApp will make all those easy-to-forget words a piece of cake!
×
Questions?
Create account >

Select the payment method

>

Payment

>

Confirmation of registration
try it for free (20 flashcards)
Get full access
Termini generali




45 flashcards

Organi giurisdizionali




41 flashcards

Procedure giuridiche




45 flashcards

Diritto Penale




66 flashcards

Diritto Civile




74 flashcards

Procedura penale




33 flashcards

Diritto Amministrativo




30 flashcards

Diritto Commerciale




36 flashcards

Show all lessons (12)
If you are not satisfied with the product you have bought, contact us and we will reimburse your money.
Marcin Młodzki
,
board member
(Warsaw, 1st Oct 2018)
VocApp Sp. z o.o.
ul. Mielczarskiego 8/58 | 02-798 Warszawa
TAX NUMBER: PL 951 245 79 19
vocapp@vocapp.com
Address
VocApp Sp. z o.o.
ul. Mielczarskiego 8/58
02-798 Warszawa
NIP: 951 245 79 19
REGON: 369727696
Dizionario giuridico
Hai dimestichezza con il linguaggio giuridico? Conosci l'esatto significato di tutte quelle espressioni che, magari quotidianamente, senti, dai TG, ad esempio? Grazie al nostro dizionario giuridico da oltre 500 flashcard potrai addentrarti in questo mondo. Con VocApp è più facile imparare termini giuridici con definizioni ed esempi di utilizzo. Padroneggia le principali espressioni legali insieme a VocApp! Le nozioni sono davvero tante (è vero): il segreto sta nel ripetere di tanto in tanto! A tal proposito, il team di VocApp ha ideato un sistema di ripetizioni che ti ricorderà di ripassare le ultime lezioni su cui hai lavorato! Nessun problema: ci penseremo noi a far sì che non dimentichi ciò che hai imparato circa il nostro dizionario giuridico.
Comprendere il linguaggio giuridico
Potremmo non spiegarti come funziona l'intero sistema legale-giudiziario, ma vogliamo assicurarci di aiutarti nella comprensione dei termini legali più utilizzati divenendo quindi in grado di usarli correttamente! Scopri oltre 500 flashcard che coprono il diritto civile, amministrativo, commerciale e molto altro. Riteniamo sia importante avere qualche dimestichezza con i termini legali, soprattutto con quelli che incontriamo più spesso. Abbiamo, dunque, cercato di creare un corso che fungesse da dizionario giuridico online a cui puoi accedere ovunque e in qualsiasi momento. Per avere una maggiore padronanza del linguaggio, ti consigliamo di visitare anche il corso Frasi idiomatiche in italiano.
L'importanza del dizionario giuridico
1. La conoscenza del dizionario giuidico ti aprirà le porte ad una brillante carriera in giurisprudenza;
2. Conoscere il significato del dizionario giuridico ti permetterà di comprendere quello che succede intorno a te e soprattutto saprai come comportarti nelle diverse circostanze;
3. Studiando il dizionario giuridico imparerai quali sono i tuoi diritti e i tuoi doveri;
4. Grazie al nostro corso, lo studio del dizionario giuridico ti risulterà molto semplice;
5. Lo studio del dizionario giuridico amplierà i tuoi studi legali e il tuo linguaggio giuridico in breve tempo.
Per cui, cosa aspetti? Il nostro corso ti aspetta!
---