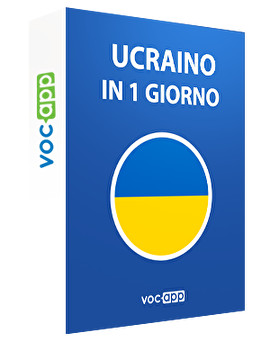 Ucraino in 1 giorno
Impariamo le basi dell'Ucraino!
La lingua ucraina ti spaventa? Ora non più con questo corso di VocApp
Abbiamo creato una serie di schede didattiche adatta a chi si approccia a questa lingua per la prima volta
Partiamo dall'alfabeto per arrivare alle frasi di cortesia più semplici
I file audio ti aiuteranno ad avere una pronuncia perfetta
Sign up for free
This course is 100% free. We want to show you how fast & easy you can learn with us.
10 parole in 60 secondi - 10 слів за 60 секунд




10 flashcards

Alfabeto - алфавіту




33 flashcards

Lo sai già:) - Це ти вже знаєш:)




10 flashcards

Domande - Питання




11 flashcards

Frasi di cortesia - Слова ввічливості




18 flashcards

Persone - Особи




28 flashcards

Frasi utili - Корисні фрази




23 flashcards

Intraducibili - Неперекладні




6 flashcards
---