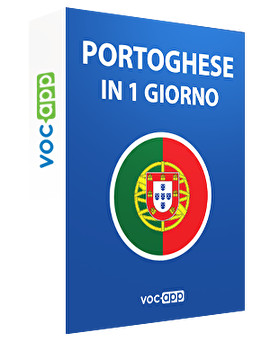 Portoghese in 1 giorno
Impara le basi del portoghese senza sforzo
Impara le basi della lingua portoghese
Prova a conversare come un autentico portoghese!
Prendi confidenza con la lingua di Cristiano Ronaldo, Ferdinando Magellano ed Amalia Rodrigues
I nostri audio rifiniranno la tua pronuncia portoghese
Sign up for free
This course is 100% free. We want to show you how fast & easy you can learn with us.
10 parole in 60 secondi - 10 palavras em 60 segundos




11 flashcards

Questo lo sai già! - Isto já conheces!




10 flashcards

Domande - Perguntas




10 flashcards

Frasi di cortesia - Expressões de cortesia




18 flashcards

Persone - Pessoas




27 flashcards

Verbi - Atividades




30 flashcards

Intraducibile - Intraduzíveis




13 flashcards
---