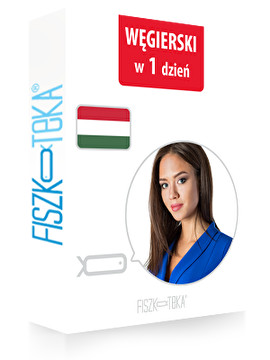 Węgierski w 1 dzień
Zacznij uczyć się węgierskiego!
Chcesz poznać język niedalekiego sąsiada?
Chcesz dowiedzieć się jak reagować w typowych sytuacjach?
Kurs jest dedykowany wszystkim tym, którzy chcą poznać najprostsze węgierskie słowa!
Pamiętajcie: Polak Węgier dwa bratanki... :)
Sign up for free
This course is 100% free. We want to show you how fast & easy you can learn with us.
10 słów w 60 sekund - 10 szó 60 másodperc alatt




10 flashcards

Już to wiesz:) - Ezt már tudod is:)




10 flashcards

Pytania - Kérdések




9 flashcards

Zwroty grzecznościowe - Udvarias kifejezések




17 flashcards

Osoby - Emberek




28 flashcards

Działania - Tevékenységek




17 flashcards

Nieprzetłumaczalne - Untranslatable




10 flashcards
---