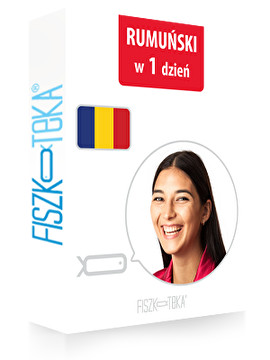 Rumuński w 1 dzień
Naucz się podstaw rumuńskiego!
Zapamiętaj podstawowe rumuńskie słowa i zwroty używane na co dzień!
Naucz się rumuńskich słówek potrzebnych w każdej sytuacji!
Opowiedz innym o sobie w języku rumuńskim!
Odkryj świat i poznaj nowych ludzi dzięki naszemu kursowi rumuńskiego!
Sign up for free
This course is 100% free. We want to show you how fast & easy you can learn with us.
10 słów w 10 sekund - 10 cuvinte în 60 de secunde




10 flashcards

To już znasz;) - Deja ştii asta;)




9 flashcards

Pytania - Întrebări




10 flashcards

Zwroty Grzecznościowe - Fraze de politeţe




18 flashcards

Osoby - Oameni




28 flashcards

Czynności - Activităţi




17 flashcards

Liczby - Numere




66 flashcards

Przestrzeń - Spaţiu




32 flashcards

Przydatne zwroty - Fraze utile




20 flashcards

Cechy - Caracteristici




30 flashcards

Czas - Timp




26 flashcards

Typowa rozmowa z podręcznika - O conversaţie tipică din cartea pentru ...




15 flashcards

Uczenie się nowych rzeczy - Învăţând lucruri noi




14 flashcards
---