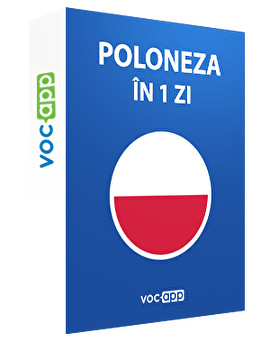 Poloneza în 1 zi
Cele mai importante cuvinte și fraze poloneze într-un singur curs!
Învață o întreagă colecție de cuvinte poloneze de bază rapid și ușor
Memorează vocabularul nou pe totdeauna datorită sistemului unic de repetiție
Lectorul nostru te va ajuta să înveți să pronunți cuvintele perfect
Impresionează vorbitorii nativi cu cunoștințele de limbă poloneză!
Sign up for free
This course is 100% free. We want to show you how fast & easy you can learn with us.
10 cuvinte în 60 de secunde - 10 słów w 10 sekund




10 flashcards

Deja ştii asta;) - To już znasz;)




9 flashcards

Întrebări - Pytania




10 flashcards

Fraze de politeţe - Zwroty Grzecznościowe




18 flashcards

Oameni - Osoby




28 flashcards
---