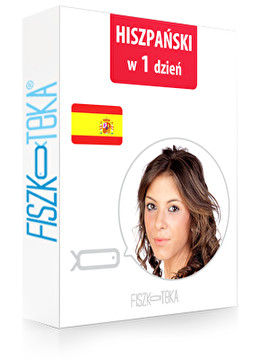 Hiszpański w 1 dzień (bezpłatny kurs)
Szybko i przyjemnie naucz się podstaw hiszpańskiego.
W 1 dzień zrobisz tyle, co normalnie przez semestr, naprawdę!
Tylko potrzebne słowa i zwroty
Przykłady, nagrania, objaśnienia, sztuczki mnemotechniczne
Zintegrowana aplikacja mobilna na Androida / iOS
Zawsze pamiętasz nauczone słówka, dzięki Systemowi Powtórek.
Sign up for free
This course is 100% free. We want to show you how fast & easy you can learn with us.
10 Słów w 60 Sekund - 10 Palabras en 60 Segundos




10 flashcards

To już znasz:) - Esto ya lo conoces:)




10 flashcards

Pytania - Preguntas




13 flashcards

Zwroty Grzecznościowe - Frases de Cortesía




19 flashcards

Osoby - Personas




40 flashcards

Praktyczne Czasowniki - Verbos Útiles




33 flashcards

i, lub, bo, więc - y, o, pero, entonces...




31 flashcards
---