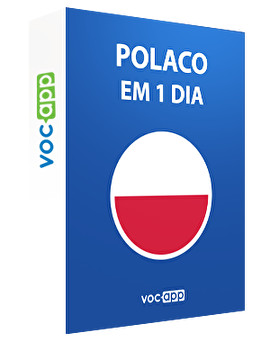 Polaco em 1 dia
Aprende vocabulário básico em polaco
Não tenhas medo, nós ajudamos a pronunciar: "sz", "ó", "ś", "ż"!
Aprende as expressões mais úteis em polaco!
Não deixes para amanhã o que podes fazer hoje!
Sign up for free
This course is 100% free. We want to show you how fast & easy you can learn with us.
10 palavras em 60 segundos - 10 Słów w 60 sekund




10 flashcards

Tu já sabes isso. - To już znasz:)




10 flashcards

Questões - Pytania




12 flashcards

Frases de cortesía - Zwroty Grzecznościowe




20 flashcards

Pessoas - Osoby




33 flashcards

Actividades - Czynności




33 flashcards

Intraduzível - Nieprzetłumaczalne




10 flashcards
---