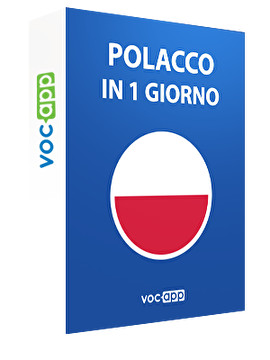 Polacco in 1 giorno
Impara il polacco di base senza alcuno sforzo! Addentrati nella lingua polacca!
Impara i pronomi personali e le frasi di cortesia che ti saranno utili durante un viaggio in Polonia
Apprendi delle parole simili all'italiano che ti aiuteranno a rompere il ghiaccio col Polacco
Provate a cominciare e usate i verbi più comuni
Imparate parole molto tipiche, così tipiche e specifiche da risultare intraducibili!
Sign up for free
This course is 100% free. We want to show you how fast & easy you can learn with us.
10 parole in 60 secondi - 10 słów w 60 sekund




10 flashcards

Questo già lo sai:) - To już znasz:)




10 flashcards

Domande - Pytania




12 flashcards

Frasi di cortesia - Zwroty Grzecznościowe




19 flashcards

Persone - Osoby




34 flashcards

Verbi / Azioni - Czynności - Activities




32 flashcards

Espressioni intraducibili - Nieprzetłumaczalne




10 flashcards
---