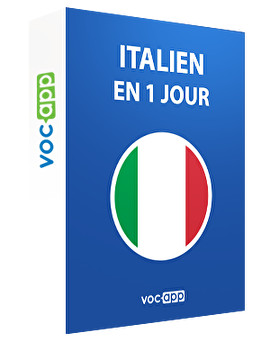 Italien en 1 jour
1 jour chrono !
C'est désormais possible d'apprendre du vocabulaire en un rien de temps avec le cours que nous t'offrons !
Grâce à cela tu pourras comprendre mieux la culture italienne dont les formules de politesses et les mots intraduisibles, qui se veulent typiquement italiens
Un vocabulaire de 151 mots pour débuter !
Pour entretenir une conversation ça sera beaucoup plus simple quand on sait dire plus qu'un simple "Buongiorno" !
Sign up for free
This course is 100% free. We want to show you how fast & easy you can learn with us.
10 mots en 10 secondes - 10 parole in 10 secondi




10 flashcards

Cela tu connais déjà:) - Già lo conosci:)




11 flashcards

Questions - Domande




12 flashcards

Formules de politesse - Frasi di cortesia




19 flashcards

Personnes - Persone




44 flashcards

Activités - Attività




30 flashcards

Intraducibili - Intraduisibles




10 flashcards
---