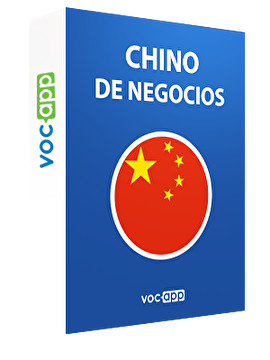 Chino de negocios
Chino de negocios ha sido creado para facilitar a tu carreira profesional!
Aprende cómo participar en las reuniones y expresar tus opiniones en chino!
¿Estás planeando de colaborar con una empresa china? Este curso te ayuda a desarrollar las relaciones de negocios en chino!
¿Tienes que escribir un correo formal a una empresa china con que vas a colaborar? Deje que te ayudemos!
Es el momento de crecer profesionalmente! Hazlo aprendiendo el chino de negocios! Ven y descubre más sobre los temas de este curso
×
Questions?
Create account >

Select the payment method

>

Payment

>

Confirmation of registration
try it for free (20 flashcards)
Get full access
Hablando por teléfono - 打电话




23 flashcards

Realizando una presentación - 做演示




21 flashcards

Organizando un encuentro - 打算会议




16 flashcards

En una reunión - 在会议中




17 flashcards

Escribiendo una carta formal - 写一封正式信




36 flashcards

Productos, calidad y cantidad - 产品, 数量和质量




24 flashcards

Comerciales - 广告




15 flashcards

Relaciones comerciales - 商务关系




14 flashcards

Show all lessons (9)
If you are not satisfied with the product you have bought, contact us and we will reimburse your money.
Marcin Młodzki
,
board member
(Warsaw, 1st Oct 2018)
VocApp Sp. z o.o.
ul. Mielczarskiego 8/58 | 02-798 Warszawa
TAX NUMBER: PL 951 245 79 19
vocapp@vocapp.com
Address
VocApp Sp. z o.o.
ul. Mielczarskiego 8/58
02-798 Warszawa
NIP: 951 245 79 19
REGON: 369727696
---