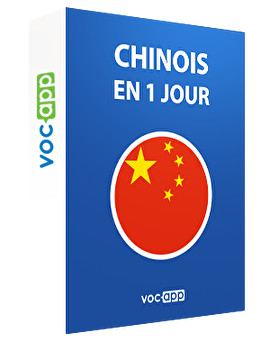 Chinois en 1 jour
Apprends le chinois avec VocApp !
Es-tu prêt à apprendre la langue la plus parlée au monde ?
Avec ce cours tu pourras apprendre du vocabulaire et phrases simples et ainsi surprendre les natifs avec ton chinois !
Apprends à prononcer correctement chaque mot avec nos audios !
Aller, il est temps de mettre la main à la pâte !
Sign up for free
This course is 100% free. We want to show you how fast & easy you can learn with us.
10 mots en 60 secondes - 一分钟学十个词




10 flashcards

Cela tu connais déjà:) - 这些词语你已经知道




16 flashcards

Pronoms interrogatifs - 疑问代词




12 flashcards

Expressions de politesse - 礼貌表达




15 flashcards

Personnes - 人




37 flashcards

Verbes - 动词




29 flashcards

Intraduisible - 无法翻译




7 flashcards
---