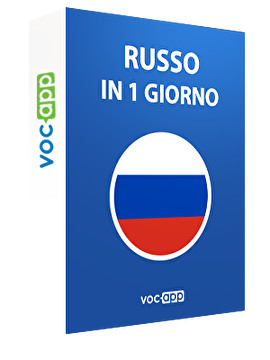 Russo in 1 giorno
Impara il russo di base senza alcuno sforzo! Inizia il viaggio nella lingua russa!
Apprendi le parole di uso comune per la sopravvivenza in Russia durante un viaggio
Vi proponiamo saluti e parole che vi aiuteranno a non mettervi paura del russo, scoprendo alcune parole che risultano molto simili
Provate a cominciare e usate i verbi più comuni
Imparate parole molto tipiche, così tipiche e specifiche da risultare intraducibili!
Sign up for free
This course is 100% free. We want to show you how fast & easy you can learn with us.
10 parole in un minuto - 10 слов за 60 секунд




10 flashcards

Questo lo sai già:) - Ты уже это знаешь:)




10 flashcards

Domande - Вопросы




10 flashcards

Frasi di cortesia - Любезные фразы




17 flashcards

Persone - Люди




29 flashcards

Azioni - Действия




17 flashcards

Parole intraducibili - Непереводимые слова




10 flashcards
---