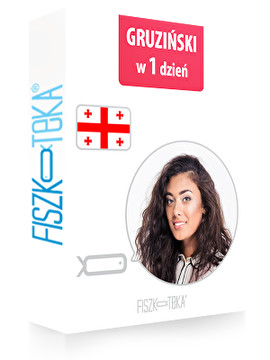 Gruziński w 1 dzień
Zacznij swoją przygodę z gruzińskim!
Jedziesz na wakacje do Gruzji? Poznaj podstawowe zwroty!
Zaskocz znajomego Gruzina mówiąc po gruzińsku!
Wiesz jakiego alfabetu używają Gruzini? Przekonaj się czy masz rację!
Podpowiemy Ci, jak poprowadzić prostą rozmowę
Sign up for free
This course is 100% free. We want to show you how fast & easy you can learn with us.
10 słów w 60 sekund - 10 სიტყვა 60 წამში




10 flashcards

To już znasz:) - შენ ეს უკვე იცი:)




11 flashcards

Pytania - კითხვები




9 flashcards

Zwroty grzecznościowe - ფრაზები




17 flashcards

Osoby - ხალხი




25 flashcards

Czynności - აქტივობები




17 flashcards

Liczby - რიცხვი




66 flashcards

Przestrzeń - სივრცე




32 flashcards

Przydatne zwroty - სასარგებლო ფრაზები




20 flashcards

Właściwości - მახასიათებლები




30 flashcards

Czas - დრო




26 flashcards

Typowa rozmowa z podręcznika;) - ჩვეულებრივი საუბრები სტუდენტის წიგნდან;)




15 flashcards

Uczenie się nowych rzeczy - ისწავლე რაიმე ახალი




14 flashcards
---