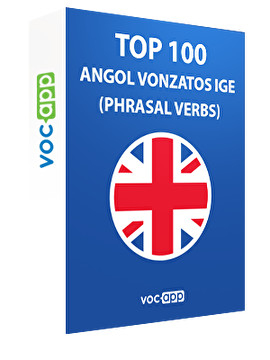 Top 100 angol vonzatos ige (phrasal verbs)
Szerezz plusz pontokat a szókincsre és kifejezésmódra a nyelvvizsgán!
Legyen változatos a szókincsed!
Tanuld meg a leggyakrabban használt vonzatos igéket!
Beszélgess anyanyelvűekkel könnyedén!
Ne okozzon többet problémát a szóismétlés!
Sign up for free
This course is 100% free. We want to show you how fast & easy you can learn with us.
Phrasal verbs 1 - 25




24 flashcards

Phrasal verbs 26 - 50




25 flashcards

Phrasal verbs 51 - 75




25 flashcards

Phrasal verbs 76 - 100




25 flashcards
---