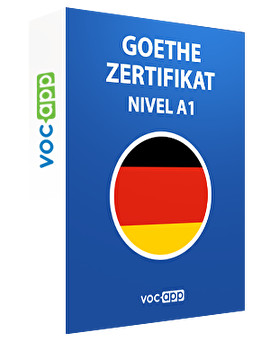 Goethe Zertifikat - Nivel A1
¡Aprueba el examen del Goethe para el nivel A1 con facilidad gracias al sistema de autoaprendizaje!
¿El idioma alemán ha despertado tu interés y tienes previsto presentarte al examen del nivel A1? Entonces este curso es para ti.
¡Aprende 800 palabras básicas que encontrarás durante el examen, y aprueba el examen sin grandes dificultades!
Es más fácil adivinar el significado de las palabras desconocidas por el contexto: ¡Las frases de ejemplo te ayudarán a memorizarlas!
¡Asegúrate de aprender también la pronunciación correcta de cada palabra y frase de ejemplo con nuestros audios!
×
Questions?
Create account >

Select the payment method

>

Payment

>

Confirmation of registration
try it for free (30 flashcards)
Get full access
los números - die Zahlen




38 flashcards

Tiempo - die Uhrzeit




15 flashcards

los días de la semana, los momentos del día, las estaciones y los meso...




32 flashcards

Monedas, pesos y medidas - Währungen, Maße und Gewichte




14 flashcards

las colores - die Farben




8 flashcards

los puntos cardinales - die Himmelsrichtungen




4 flashcards

Alphabetische Wortliste - A (1 - 50)




50 flashcards

Alphabetische Wortliste - A (51 - 75)




24 flashcards

Show all lessons (32)
If you are not satisfied with the product you have bought, contact us and we will reimburse your money.
Marcin Młodzki
,
board member
(Warsaw, 1st Oct 2018)
VocApp Sp. z o.o.
ul. Mielczarskiego 8/58 | 02-798 Warszawa
TAX NUMBER: PL 951 245 79 19
vocapp@vocapp.com
Address
VocApp Sp. z o.o.
ul. Mielczarskiego 8/58
02-798 Warszawa
NIP: 951 245 79 19
REGON: 369727696
---