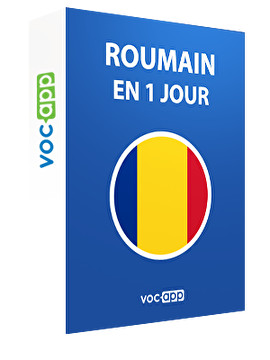 Roumain en 1 jour
Tu veux aller en Roumanie?
Si vous voulez apprendre des expressions basiques
Si tu veux visiter le pays où résident les racines de toutes les histoires de vampires
Ou vous êtes juste curieux d'apprendre une langue des Balkans
Notre cours de roumain commence aujourd'hui
Sign up for free
This course is 100% free. We want to show you how fast & easy you can learn with us.
10 mots en 10 secondes - 10 cuvinte în 60 de secunde




10 flashcards

Tu connais déjà:) - Deja ştii asta:)




9 flashcards

Questions - Întrebări




10 flashcards

Expressions de politesse - Expresii de politețe




18 flashcards

Personnes - Oameni




27 flashcards

Activités - Activităţi




17 flashcards

Mots intraduisibles - Cuvinte intraductibile




7 flashcards
---