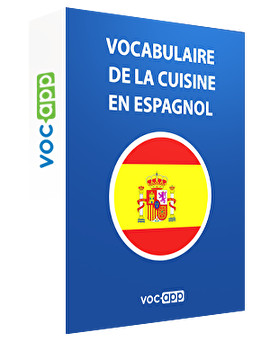 Vocabulaire de la cuisine en espagnol
Deviens un(e) expert(e) culinaire en espagnol !
Les fruits, les légumes et les épices n'auront plus de secret pour toi !
Apprends tout le vocabulaire des ustensiles de cuisine !
Découvres des plats typiquement espagnols !
Tu trouveras même la traduction d'une recette traditionnelle !
Sign up for free
This course is 100% free. We want to show you how fast & easy you can learn with us.
Fruits - Frutas




36 flashcards

Légumes - Verduras




36 flashcards

Verbes - Verbos




26 flashcards

Appareils électroménagers - Electrodomésticos




18 flashcards

Boissons - Bebidas




12 flashcards

Épices - Especias




35 flashcards

Goût - Sabor




10 flashcards

Plats espagnols typiques - Platos españoles típicos




11 flashcards

Recette de croquettes au jambon pas à pas - Receta de croquetas de jam...




7 flashcards
---